There has been a rise in plant-based food options and offerings due to customer demand. This is for environmental and ethical reasons, but also because customers are indeed health conscious. It seems in general, there is a desire for more natural products that are safer for our bodies and the planet. That's why there have been so many vegan, cruelty-free, and natural cosmetic and skincare launches. Lady Gaga launched Haus Laboratories, a line of vegan and cruelty-free makeup. Stranger Things star Millie Bobby Brown launched vegan beauty line Florence. Pop star Kesha also launched a vegan beauty brand. And most recently, one of the most famous and affordable beauty brands, CoverGirl launched a clean vegan beauty line.
Major retailer Marks & Spencer is now launching their own line of vegan and cruelty-free skincare called Pure Beauty Cosmetics.
The Marks & Spencer website describes the line as follows: "For natural, ethical beauty you can trust, Pure vegan skincare is a natural source that's truly effective. With brand new formulas, 95% of Pure ingredients are derived from the natural world, and all products are made without artificial colours and fragrances. Cruelty free and 100% vegan, Pure vegan skincare is a range that really performs, so you can align your skincare routine with your values."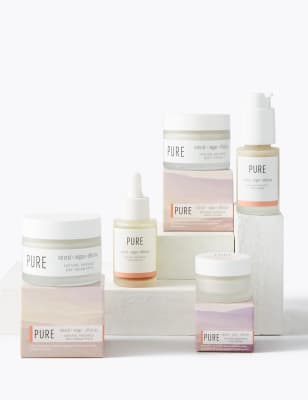 Source: Marks & Spencer
Some of the products include day cream, night cream, radiance serum, micellar cleansing oil, glycolic toner, cleanser, and more. The line is also affordable with the price ranging from £5 to £10. They are available in stores and online.
Get More Vegan and Cruelty-Free Cosmetics and Skincare Products:
For more Life, Animal, Vegan Food, Health, and Recipe content published daily, don't forget to subscribe to the One Green Planet Newsletter!
Being publicly-funded gives us a greater chance to continue providing you with high quality content. Please support us!